How do I Become a Fire Protection Specialist?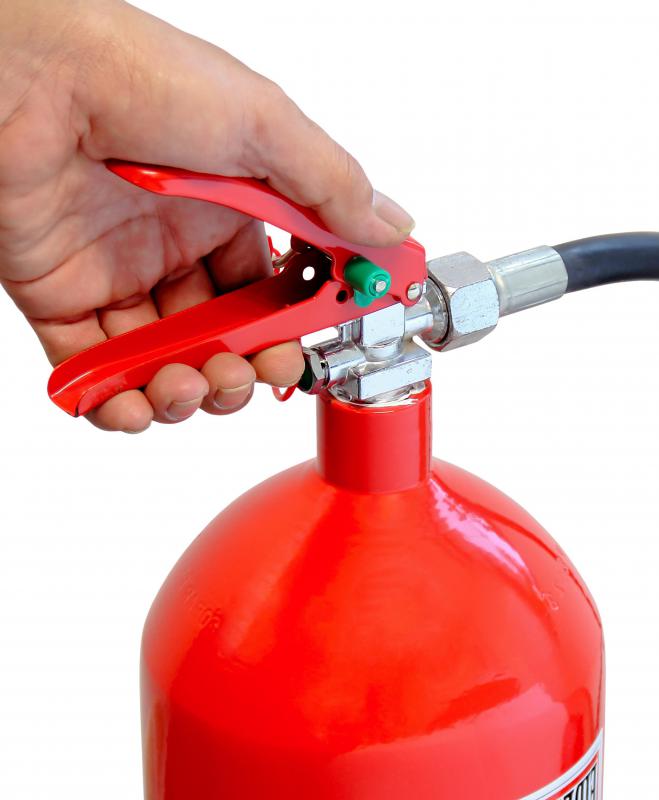 A fire protection specialist is responsible for installing, inspecting, and repairing systems designed to prevent fires. You can become a fire protection specialist after earning a two-year degree in fire science, although your career as a fire protection specialist cannot start without completing certification exams. One career option for a fire protection specialist is to ensure fire safety compliance on behalf of a law enforcement agency. You can also submit your credentials to alarm and system companies to become a fire protection specialist.
You need not attend a four-year university in order to become a fire protection specialist; a technical diploma in fire science can take as little as two years to complete. Your fire science curriculum might feature courses in protective systems and prevention. You might want to pursue a certificate in a specific aspect of fire protection to improve your chances of finding employment. This certificate can give you skills in fire safety inspection, outdoor fire protection, and fire investigation.
In most cases, your career as a fire protection specialist cannot get off the ground without proper certification. Your local or regional government might require a fire protection specialist to be licensed prior to employment. This licensing requirement is met when you complete a mandatory course and pass a certification exam. You should also look into certifications issued by fire safety and protection organizations before you apply for work. These achievements will show your commitment to the latest fire protection methods to prospective employers.
You might be interested in becoming a fire protection specialist with the local fire department. Nearly every fire department employs at least one inspector who is sent out to local buildings to ensure compliance with safety laws. You would spend your time inspecting fire alarms, smoke detectors, and extinguishers at local companies. This position might also require you to document deficiencies that could lead to significant fines. The department of health and safety in your jurisdiction may also employ fire protection specialists to oversee adherence to new protection requirements.
Another career option as you become a fire protection specialist is to work with a fire system provider. You should be able to find at least one system provider in your region that helps residential and commercial customers stay safe from fires. This career path allows you to install smoke alarms and fire extinguishing systems for clients within your community. You can also use your fire science background to educate customers about common causes of fires. A fire system provider might send you out to maintain and repair systems ahead of annual inspections.
By: mrkob

A fire protection specialist must be familiar with how to use and inspect fire extinguishers.

By: shadowchaser

Knowledge of smoke detectors and how to inspect them is important for a fire protection specialist.

A ground post indicator valve opens and closes a water supply to fire protection systems in a building.