How Do I Become a Draftsman?
It is sometimes possible to begin a career in drafting with no prior experience or training, though that is not the typical path. In order to become a draftsman, you will usually need to obtain either a two year certificate or four year degree. Community colleges and technical schools sometimes offer two year certificate programs that can get you started in the field, though a four year bachelor's degree program offered by an accredited university can also be a viable path. In addition to a certificate or degree, other factors such as an eye for detail, the ability to draw, and a good working knowledge of computer based drafting systems can also help you become a draftsman.
Draftsmen, or drafters, are people who are responsible for creating detailed plans and other technical drawings. As a draftsman, you may work on anything from building or structure plans to technical drawings for electronic devices. This means that anyone who wants to become a draftsman must first have sound technical and scientific knowledge in addition to the ability to draw. There are many different types of draftsman that each focus on different fields, so you should keep that in mind while working on your education.
If you want to become a draftsman, you may begin your path as early as high school. Drafting requires scientific and technical knowledge, so you may want to work on creating that base while you are obtaining your secondary education. If your school offers computer aided design (CAD) classes, that can be a useful subject to explore. You can also take various artistic drawing and technical drafting classes to develop those skills, especially if you lack a natural ability to draw well.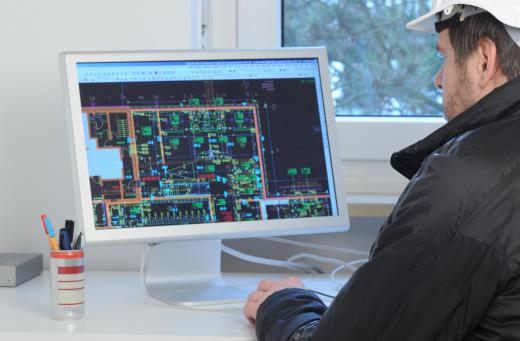 After high school, you may want to contact both potential employers and schools in the area. Companies that employ drafters can tell you whether they look for employees with technical certificates or bachelor's degrees, and if they have a history of hiring graduates from any particular school. When you speak to local vocational schools and universities, you can ask what types of companies their draftsman graduates have gone on to work for.
It can also help to check if your country or local area has an association of drafters that offers certifications. In the United States, the American Design Drafting Association (ADDA) is an organization of professional draftsman and technical illustrators that offers certifications. This type of certification is not usually required to become a draftsman, but it may help to show potential employers that you possess the necessary expertise to do the job correctly.
AS FEATURED ON:
AS FEATURED ON:

By: apops

A certificate or degree is usually needed to get a job as a draftsman.

By: Fotofreundin

A prospective draftsman might want to learn computer aided design.

By: jurra8

A draftsman should know how to use a plotter, the special large-format printers used to print blueprints, schematics and reference designs.

By: Chad McDermott

Thanks to CAD technology, a draftsman can now do his job more quickly, producing more designs than in previous years.