How Do I Become a CAD Drafter?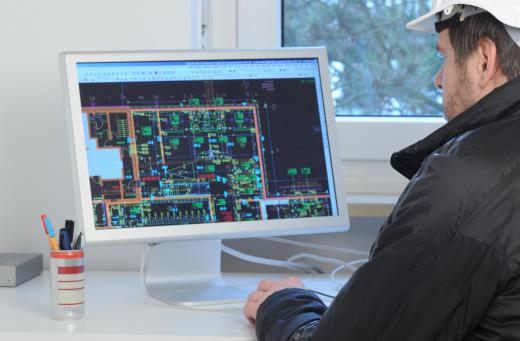 You can become a CAD drafter by completing a college level course of study in computer aided design, by mastering at least one of the drafting software packages often used in the industry, and by completing an internship under the supervision of established CAD drafters. Helpful preparation for this type of technical profession can also include pre-college courses in subjects such as geometry, trigonometry, drawing, architectural history, and basic computer applications. Professionals in the computer aided drafting field typically have thorough backgrounds in two- and three-dimensional design concepts, so studying these areas can also be beneficial for someone with a goal to become a CAD drafter.
CAD draftsmen and draftswomen work in various fields such as architecture, interior design, mechanical engineering, and manufacturing equipment construction planning. They are generally able to create a range of blueprints and plans drawn to detailed specifications and to update those plans as needed. While a good deal of emphasis is usually placed on mastery of CAD software, experts in this field also highlight that the software is merely a tool. To successfully become a CAD drafter, you will also need to gain proficiency in correctly hand-drawing these types of documents in order to understand how to apply the fundamental drafting techniques.
Employers in the computer aided design field typically look for new hires with a minimum two-year degree in CAD from a technical school or community college. Some four-year university architecture programs also offer training in CAD software, and some prospective CAD drafters can also learn this trade while serving in the military. A typical CAD degree program consists of courses in hand-drafting, blueprint reading, construction standards, and the proper use of tools such as engineering and architectural measurement scales. Optional courses for a student hoping to become a CAD drafter can include basic graphic design and advanced applied mathematics as well as construction materials and methods.
Advanced students in a CAD degree program are often required to complete a set of courses and lab hours in the use of industry-standard CAD software. Many of these courses of study also require submission of a portfolio consisting of at least one series of blueprints of a construction project from start to finish. Completion of a quality internship is also an encouraged option prior to or just after graduation. You can frequently become a CAD drafter with the same company you intern with, provided you are dedicated and hard-working.


By: Fotofreundin

A CAD drafter needs coursework as well as hands-on training.

By: jurra8

A CAD drafter should know how to use a plotter, the special large-format printers used to print blueprints, schematics and reference designs.

By: Chad McDermott

Designs made from CAD software are used in a number of different industries, including architecture, engineering and manufacturing.