How do I Become a Bookkeeper?
To become a bookkeeper, you need to have a combination of education and experience in basic accounting. Bookkeepers are responsible for the creation and maintenance of accounting records for small to medium size enterprises. In a medium size company, a person in this position usually reports to a certified public accountant. In a smaller company, he may be the only accounting person on staff.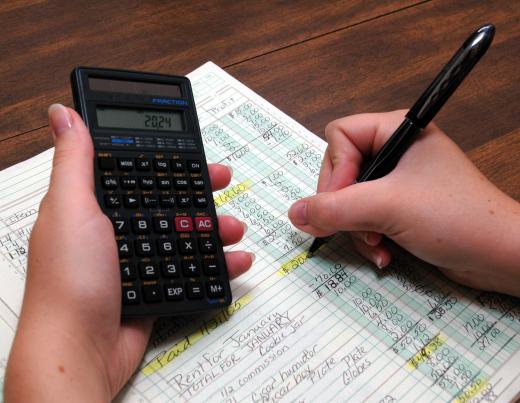 The bookkeeper is responsible for the daily business activities of the company. This role includes banking, reconciliation, accounts payable and receivable, as well as payroll. Although this person may be processing the transactions, the annual financial statements must be prepared by a certified public accountant or firm, as a bookkeeper is not certified to create these audited statements.
In order to become a bookkeeper, enroll in a certificate of bookkeeping from your local college or university. The courses included in the certificate should be payroll processing and reporting, journal entries, accounts payable and receivable, and at least one accounting software package. There is a minimum amount of accounting theory in these classes.
The most important aspect of becoming a bookkeeper is the ability to process the accounting transactions. It's a good idea to pursue certificates with a work experience component. These programs help you to learn the job with a combination of education and experience.
Once you are trained, apply for jobs as a bookkeeper in small firms. You can also volunteer your bookkeeping skills to a local organization to practice your skills and improve your resume. Contact local accounting services firms and let them know that you are looking for a job as a bookkeeper. Many accounting firms have a list of clients who rely on them for audited financial statements. They often have bookkeepers on staff to assist small firms with their daily processing.
After working for two years as a bookkeeper, investigate getting certified. In the US, certification requires a minimum of two years of experience and the successful completion of a four-part national exam. Certified bookkeepers must sign a code of ethics and are encouraged to complete continuing education credits.
As a certified bookkeeper, you should be able to demand a higher salary and find more clients to support a freelance bookkeeping business. In order to have a sustainable business, you will probably need to work with several clients, depending on the size and volume of work required. Advertise your services in the local business directory. Talk to small business owners, doctors, dentists, entrepreneurs, and other start-up businesses. All these firms need to have a bookkeeper to perform basic accounting functions, and while they may not be able to afford a full-time bookkeeper, they likely would be happy with a freelance arrangement.
Continue to promote your services and expand your network to continually add to your client list. Create an professional online presence, listing your services, hourly rate, and information about your credentials and experience. You should also create business cards and a brochure of your services for distribution to potential clients.


By: apops

To become a bookkeeper, one would need to get a certificate from a college or university.

By: Danny Hooks

Community colleges may offer bookkeeping classes.

By: a4stockphotos

Bookkeepers may be able to do some of their work from home via telecommuting.

By: auremar

Certified bookkeepers are encouraged to complete continuing education credits.