How do I Become a Boat Captain?
The requirements necessary to become a boat captain depend greatly on where you live and what the specific regulations are regarding licensing in your region. In the United Kingdom, for example, you should contact the Royal Yachting Association, as it can provide you with information regarding licensing procedures and other requirements. The United States (US) has other requirements, and most applicants will need to contact the US Coast Guard for the necessary testing and exam procedures. In any situation, you can help yourself along by getting experience working on a boat, whether it is a commercial fishing boat or a luxury cruise ship.
While the specific requirements may change from country to country, there are some general guidelines you can consider as you work to become a boat captain. Consider what is necessary in the US to become a licensed boat captain and you will have a good idea of what you may need to do, regardless of your area. In the US, you need to contact the US Coast Guard for a local Regional Exam Center to take the necessary exams required by US law to work as a boat captain.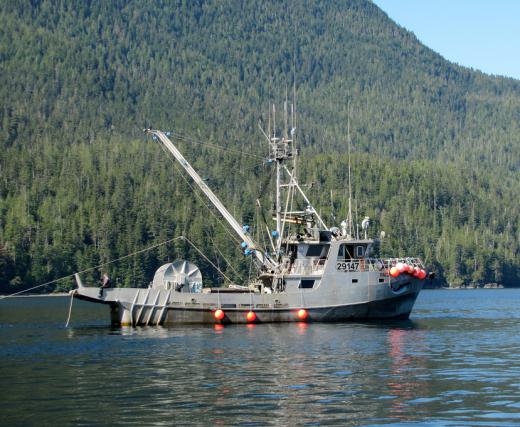 You will need to provide documentation of 360 days of boating experience, with at least four hours of time at sea per day. These days must have all been within the past five years, but this time can be spent doing any type of duties on a boat or ship. Documentation can be the most important part of this required time to become a boat captain, so be sure you keep your time properly logged and have the captain you serve under sign your records.
There is a fairly rigorous written exam you must pass to become a boat captain in the US and proper preparation for this test is strongly suggested by those who have passed it. The material covered in the test goes beyond what can be easily learned from just working on a boat, and a number of preparatory courses and books are available to help you study. Questions on this test cover everything from proper deck and safety procedures to general navigation knowledge and even a number of navigation problems that require the use of a slide ruler to accurately perform triangulation of locations.
A physical examination complete with eye exam is also required, as well as a background check, fingerprinting, and drug testing. You will also have to be cardiopulmonary resuscitation (CPR) and first aid certified, and your local Young Men's Christian Association (YMCA) and American Red Cross locations can help you with those requirements. Expect to need several recommendations as well, so consider who you know with captain or yachting experience who can give you a solid recommendation.
AS FEATURED ON:
AS FEATURED ON:

By: Paul Hamilton

A commercial fishing boat.

By: keller

The captain of a tugboat has usually attended a maritime academy and worked for several years as an officer within a tug or towing line.

By: Pavlo Vakhrushev

Captains in a nation's navy have usually received command and technical training at a naval academy or in an equivalent ROTC program, served for several years in various roles within the fleet, and consistently demonstrated above average leadership abilities.

By: Marina Krasnovid

Boat capitains are fingerprinted during the application process.

By: James Steidl

Though today aided by devices such as GPS, the basic techniques used in navigation, such as position triangulation and dead reckoning, are the same as during the Age of Sail.

By: fred goldstein

Aspiring boat captains must pass an eye exam in order to verify that their vision is acceptable.

Typically, the U.S. Coast Guard can provide information about testing and exam procedures needed to become a boat captain.