Learning to apply blush is an important part of creating a great makeup look. The basic tools needed to apply blush include a large round brush, powder, cream, or gel blush, and a mirror. In addition to using simple blush techniques, more advanced applications can include the use of bronzer, contrasting blush, or shimmering powder.
Choosing the right type and color of blush is the first step to a finished look. Since colors range from pale rum pink to vibrant red, it is important to find a blush that matches skin tone and looks natural, while adding a healthy glow to cheeks. People with pink skin undertones tend to look better in cooler colors, such as rose or plum. Yellow skin tones may look better with coral or bronze shades. Olive or dark complexions can handle bold colors, such as burgundy. Blush comes in powder, gel, and cream formulas; while gel and cream blush may give a more natural look, powder blush can be easier to blend and adjust for proper coverage.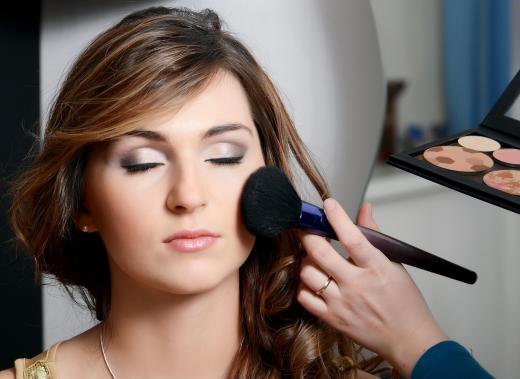 Rouge is typically applied over foundation or tinted moisturizer, though it can be used on bare skin as well. If applying over liquid or cream foundation, allow the base several minutes to dry before trying to apply blush. Adding color before base has fully dried can cause foundation to smear, and may lead to uneven coverage.
For a basic, healthy looking glow, apply blush to the apples of the cheeks. To find this area, simply smile in front of a mirror and note the raised area of skin on the cheeks. If using powder blush, dip the brush in the formula, tap or shake excess color off, then apply evenly to both sides. Blush should stop a few inches away from the nose, and should not extend above the eye line on the sides of the face. With a gel or cream blush, apply the rouge with a sponge or finger tips, then quickly blend.
To create the illusion of a slimmer face, it may help to apply blush or bronzer in a darker shade that can be used to create definition in the cheeks. For this method, suck cheeks in, making a "fish face" in front of the mirror. The indented area on the cheeks is where darker blush can be added. Dust darker blush in a V-shape, from below the cheekbones back to the indented area, then blend with a brush or sponge. When a lighter shade is added to the apples, the contrast will help cheekbones stand out. To increase the illusion more, use an eyeshadow brush dipped in sheer shimmer powder to draw a faint line along the crest of the cheekbone.
AS FEATURED ON:
AS FEATURED ON:

By: Vladimir Voronin

Blush enhances the cheekbones.

By: Subbotina Anna

Experts recommend that blush should be applied to the apples of the cheeks.