Miscellaneous
Fact Checked
How can I Prepare to Host a Wedding Shower?
A wedding shower is a rite of passage for any bride-to-be and the friends who throw one for her. It is believed that Holland was the birthplace of the wedding shower. According to the story, a Dutch girl married a poor miller despite her father's protestations. He withheld her dowry, which was what the couple would have begun their life with. Because the poor miller had always been generous with his local townspeople, they came together and "showered" the couple with gifts with which to furnish their home.
A modern wedding shower, also called a bridal shower, adheres to the tradition by providing a way for loved ones and friends to help a betrothed couple build their future life together. It is also a time for the bride and her family and close friends to have some time for a quiet celebration before the fuss of the big day. The shower is typically hosted by the bridal party, but any close friend can serve as host. For anyone planning a wedding shower, the seemingly daunting task should be started by establishing a budget, guest list, location and theme.
The wedding shower should be held no more than two months and no less than two weeks prior to the wedding date. Anything closer than two weeks may be too stressful for the bride and her bridal party. The guest list should include close friends, co-workers and family — generally women who are already on the wedding guest list. It is a major faux pas to invite someone who has not been invited to the wedding.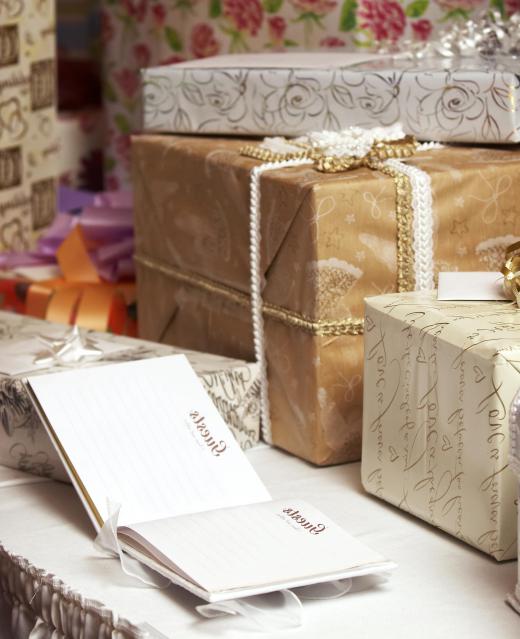 Invitations can be as formal or as simple as budget and time constraints allow. Most stores with a stationary aisle have pre-printed, fill-in invitations or kits to assemble them yourself. Of course, there is always the more expensive option of having invitations professionally printed. Invitations should be mailed approximately four weeks prior to the wedding shower.
Traditionally, only women were included in a wedding shower. Today, however, more and more wedding showers are co-ed affairs. Usually, this type of wedding shower caters to couples and includes a cook-out, beach party or the like.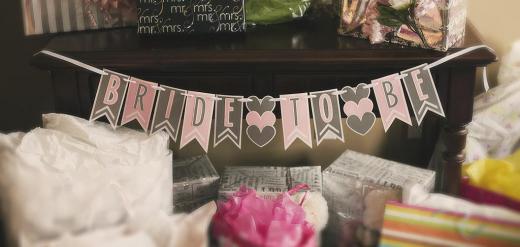 A wedding shower can be hosted virtually anywhere. Private homes, hotels and restaurants are popular choices, but these days, the sky's the limit. Showers can be a simple picnic or barbecue in the park or backyard, or an indulgent spa retreat. Location is dependent upon budget and the tastes and preferences of the bridal party and the bride.
A theme should be selected to fit the bride's personality. Many popular themes include lingerie showers, kitchenware showers and gourmet cooking showers. An "around the clock" wedding shower is an interesting concept in which each invitee is assigned a specific time of day to purchase a gift for. For instance, if assigned 8:00 a.m., a guest might purchase a coffee maker.
A wedding shower menu has endless possibilities. Traditionally, wedding shower menus consist of finger foods that allow circulation of the guests for maximum socializing. Other options include tea, brunch or breakfast, a formal sit down lunch or dinner and a barbecue. The choice is of course also dependent upon budget.
Once all the necessary details of the wedding shower are decided upon, it is fun to include a couple of games as ice-breakers. Favors commemorating the special occasion are also nice to give to departing guests.
AS FEATURED ON:
AS FEATURED ON:

By: Studio Pookini

Picking a location, such as a beach, is part of preparation for hosting a wedding shower.

By: Eric Limon

Wedding shower gifts may be purchased through an online gift registry.

By: Timothy Marsee

Bridesmaids are responsible for planning and decorating a wedding shower.

By: robert lerich

Towels are popular wedding shower gifts.

By: Supertrooper

For expensive items, like vacuum cleaners, several people may chip in for the gift.

By: Sarah_Ackerman

Games are a fun and popular way to entertain guests at a wedding shower.

By: DragonImages

A bridesmaid may be tasked with writing out wedding shower invitations.

By: N i c o l a

Kitchen appliances may be given as gifts during a wedding shower.

By: Hadi Yuswanto Djunae

When hosting a wedding shower, give guests small, commemorative gifts or party favors.

By: Monkey Business

Cook outs are a common activity for co-ed wedding showers.

By: tayindigo

The wedding shower should be held within 2 months or less of the wedding date.