How Can I Match My Eyebrows and Face Shape?
When eyebrows and face shape are matched, the effect can be very flattering, because eyebrows that complement your face shape can balance your facial features or make your eyes more noticeable. The right eyebrow shape also can enhance or downplay your face shape or a particular part of it. Determining the shape of your face — whether oval, heart-shaped, round, triangular, square, rectangular or oblong — is the first step in helping you match your eyebrows and face shape. Looking through magazines and online to find pictures of others who share your face shape also can help, particularly if you find one whose eyebrows you particularly like.
A basic eyebrow shape that works for nearly everyone is thicker at the inner eye and gradually becomes thinner as it nears the outer eye. Variations on this, however, can create an effect tailored to your particular face. Matching eyebrows and face shape for an oval face is generally easy. An oval face is often considered ideal, because of its symmetrical appearance, so an extreme eyebrow shape is not needed to provide a shape-altering illusion. Eyebrows with a gentle arch tend to be the most flattering look for an oval face.
A heart-shaped face is wider at the forehead and tapers into an angular chin. A rounded eyebrow looks natural and complements this face shape, which can help balance out the proportions of the face. Eyebrows for a round face are often styled with high arches, which give the face a slightly slimmer appearance. Highly arched eyebrows also give an uplifted look to the eyes and can make you look more alert.
Square or angular faces also can benefit from highly arched eyebrows. In this case, the idea is to contrast and soften the strong lines of a square face. A rounded curve to the outer edges of the eyebrow also can help create this effect.
The best eyebrows for a long face will minimize the length of the face. This usually means an eyebrow that has very little, if any, arch. The straightness of the eyebrow gives the illusion that the face is shorter.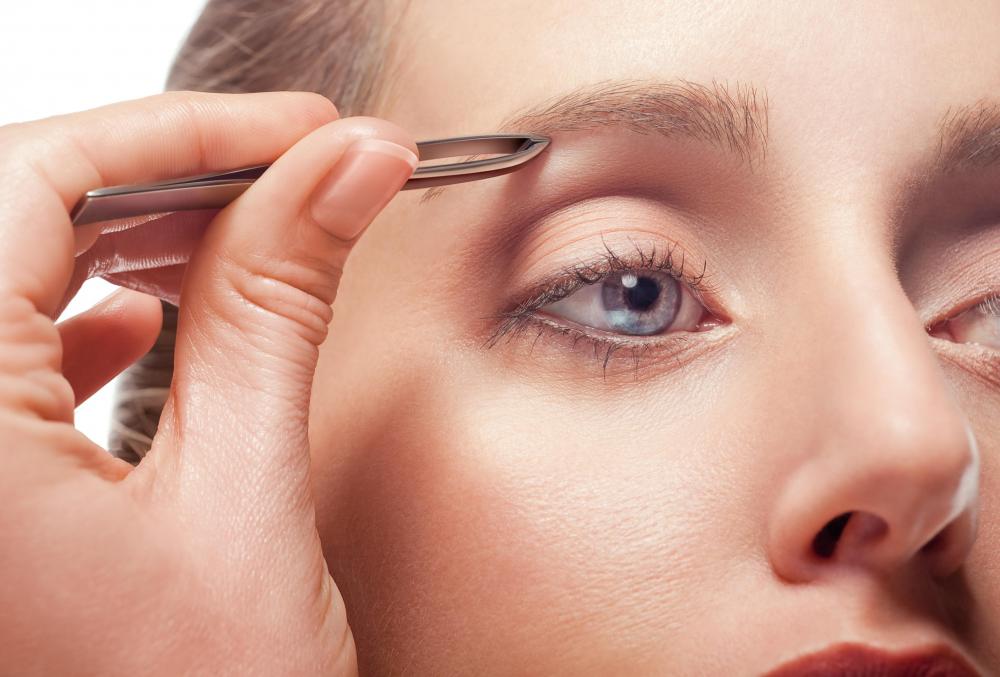 The eyebrows and face shape with which you were born might not be a perfect match, but plucking or otherwise grooming the eyebrows can alter their natural shape. You can further enhance your eyebrows with eyebrow pencils, gels or powder, particularly if they are too light. Eyebrow stencils are sometimes used for a more precise and dramatic look.
Looking through magazines is another way to help you match your eyebrows and face shape. You can start by finding pictures of models or actresses who share your face shape. Once you've found them, you can study those who have eyebrows you like and try to replicate their look. Experts recommend proceeding cautiously, however, because overplucking your eyebrows may do more harm to your appearance than simply leaving them along would do.
Properly shaped eyebrows can complement a face.

Lighter eyebrows can be made to look thicker with an eyebrow pencil.

The size and shape of a person's eyebrows can dramatically affect their appearance.

Plucking eyebrows is one way to shape them so they complement the face.