Hummus is thought to be one of the oldest prepared foods known to civilization. Though the historical origins of hummus are unknown, many Mediterranean and Middle Eastern countries take credit for its creation. Cooks in each country make hummus to their own preferences, according to their agriculture, tastes and traditions.
There are many ways to make hummus. The main ingredients are chickpeas, or garbanzo beans; with tahini (sesame butter), lemon, garlic and salt to round out its special flavor. Special signature additives include cayenne, chili powder, coriander, cumin, dill, mint leaves, paprika, parsley, olive oil, olives, roasted garlic, roasted peppers, scallions, sweet pickle relish, tomatoes, turmeric and vinegar.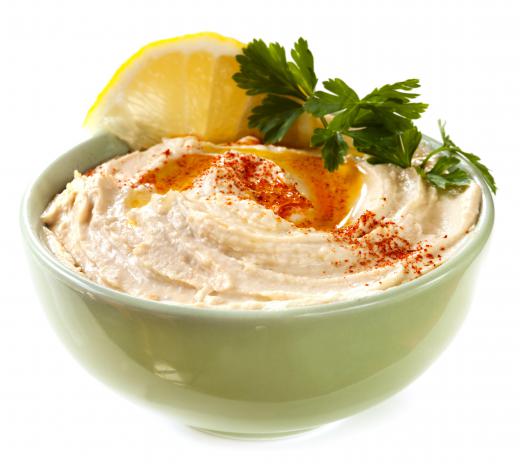 In order to make hummus, you need to prepare your chickpeas ahead of time. This involves soaking them overnight and then simmering them for several hours until they are very soft. Since this process is the lengthiest part of the recipe, many people cook a large batch of chickpeas at once. Then they prepare several small batches and freeze them for future use.
The alternative is to use canned chickpeas for the hummus. This cuts down on preparation time, but the canned products include an excessive amount of additives and stabilizers. Another option is to purchase organic, canned chickpeas as they are preserved with seaweed or other natural preservatives.
Most chefs prefer to make hummus by putting the cooked chickpeas in a food processor. This makes for a smoother, richer paste and is much quicker than beating with an electric mixer. Once the chickpeas are blended, begin adding tahini until the paste becomes smooth and creamy. The hummus can then be seasoned to taste with lemon, garlic and salt along with any of the alternative options.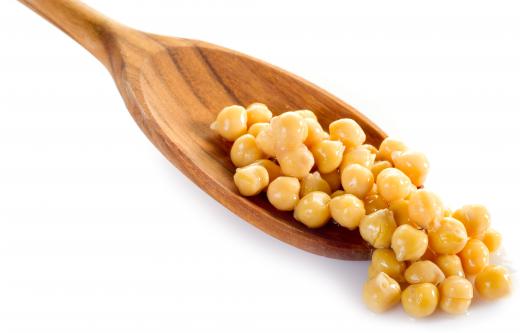 People use hummus as an appetizer dip to be served with crackers, vegetables or pita bread. It is also a great spread for sandwiches and burgers as well as a topping for grilled chicken, fish and baked potatoes. Hummus is also the famous, unique spread used with falafels.
Health-conscious people like to make hummus and substitute it for mayonnaise and other high fat spreads. It contains no cholesterol or saturated fat, while being high in fiber and protein. Because of its pleasing taste, hummus is not isolated to vegetarian dishes but crosses all lines and is served with a variety of foods.
AS FEATURED ON:
AS FEATURED ON:

Bowl of hummus.

By: zoë biggs

Hummus is sometimes flavored with coriander.

Chickpeas, the main ingredient in hummus.

Chili powder is often used to flavor hummus.

Pita bread, which is often served with hummus.

By: Barbara Pheby

Hummus can be seasoned with parsley.

By: Dionisvera

Mint leaves may be featured in hummus.

By: margo555

Chopped green or black olives are commonly added to garlicky hummus.

By: Igor Dutina

Numerous spices and seasonings can be added to hummus, including roast garlic and cayenne pepper.

By: natalyka

Some garlic is necessary to round out the taste of hummus.