Donuts, also seen spelled as doughnuts, depending on the region, are pastries made by frying dough in oil. Making them at home does require some work, but many cooks feel that it is well worth the effort because it is possible to make delicately flavored, light ones that can be eaten fresh, rather than several hours or days old. Because of the involved process that goes into making these pastries, it is worth making a large batch and planning on having a lot of people around the house to help you eat them.
There are two basic doughs used to make them: a yeast dough, which involves much more work, and a quick cake dough. Yeast donuts tend to be lighter and fluffier, while cake ones are richer and heavier. General rules for handling either batter are the same: start with room temperature ingredients, handle the dough as little as possible, and plan on refrigerating the dough before you work with it. Roll or pat the dough out to a thickness of approximately 0.25 to 0.5 inch (6.35 to 12.7 mm) and use a donut cutter, if possible, to cut the dough. If not, use two cookie cutters of graduated size to create the classic round shape. After you cut the shapes out, let them rest on wax paper for approximately 10 minutes so that they will form a thin crust that will prevent them from getting oily when you fry them.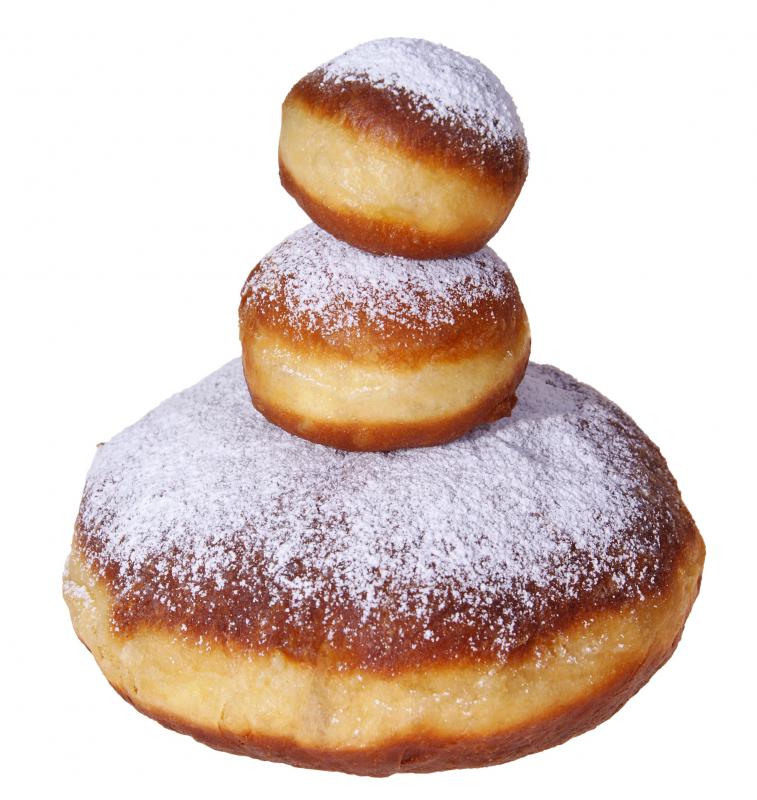 Use clean, fresh oil in a spotless deep fryer or wok to make donuts. Any sort of oil will do, as long as it can be brought to 360°F (182°C) and held there without smoking. Keep a thermometer in the oil to check the temperature, and do not overcrowd it with the pastries and their holes. Remember that the dough will expand as it is fried, so leave wiggle room for the pastries to do so with ease. When the donuts start to turn golden brown, flip them to fry the other side, and then place them on paper towels to drain before rolling them in powdered sugar or frosting them. You may find that dipping your spatula in the oil, placing the dough on it, and lowering it carefully into the oil for frying is the easiest way to get them into the fryer, and remember to use a slotted spoon to remove them, allowing grease to drain.
To make yeast donuts, start by proofing 4.25 teaspoons (17 grams) of yeast, or the contents of two yeast packages, in 1 cup (236.5 ml) warm water. After the yeast has been activated, add 1 cup (125 g) of flour, mix, and allow it to rest for 30 to 60 minutes while you assemble the rest of the ingredients. In a separate bowl, beat 10 tablespoons (142 g) of unsalted butter with 2/3 cup (133.3 g) sugar and add three eggs, one at a time, following with 1 teaspoon (4.9 ml) of vanilla and 1 teaspoon (6 g) of salt. Add the butter mixture to the yeast mixture along with 3.5 cups (437.5 g) flour, mixing until the dough is golden and even. Butter a clean bowl and roll the dough around in it, coating it evenly, before covering it with plastic wrap and placing it somewhere warm to rise for one to two hours. When the dough has doubled in size, punch it down, wrap it in plastic, and refrigerate it for three hours or overnight. Because the dough may burst the plastic, add another plastic bag to prevent it from contacting the air and developing a crust. Cut and fry the pastries as directed above, and enjoy them.
To make cake donuts, which are much easier and quicker, sift together 2 cups (250 g) of flour, 0.5 cup (100 g) of sugar, 1 teaspoon (6 g) of salt, 1 tablespoon (4.6 g) of baking powder, 0.25 teaspoon (0.65 g) of cinnamon, and 0.125 teaspoon (0.28 g) of nutmeg. Add 2 tablespoons (28.4 g) of melted butter and mix until crumbly. In a separate bowl, beat together 0.5 cup (118.3 ml) milk and one egg, and add this mixture to the crumbly mixture all at once. Knead the dough lightly before chilling it for at least one hour and then follow the directions for forming donuts.
By: contrastwerkstatt

A baker making fresh donuts.

By: Bombaert Patrick

Use clean, fresh oil in a deep fryer to make better tasting donuts.

Donuts.

By: Robinson

Yeast, one of the ingredients in yeast donuts.

By: gcpics

Chocolate glazed donuts.

By: Natika

A cinnamon stick. Cinnamon is often used to season donuts.

By: Thomas Francois

Many people add a touch of nutmeg to their donuts.