How can I get the Best Car Loan Rate?
The most important factor in finding the best car loan rate is to be an informed consumer. Just like the price of cars, rates are negotiable. Consumers need to know their credit score and the rates that are available to those within their credit score range.
Before entering the dealership, some research will help to get a great car loan rate. Online shopping is a good source. There are websites that allow potential buyers to enter their information and shop among popular banks. Consumers should also check with financial institutions which they currently use. Institutions who already have their business are likely to try to keep it. Insurance companies, banks, and mortgage and loan companies are good places to call and ask for the best car loan rate.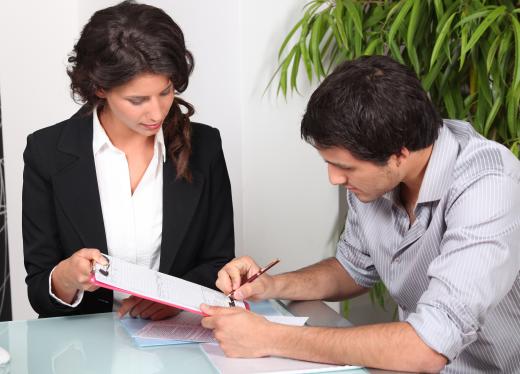 It is important to note that the lowest car loan rate does not always ensure the lowest car payment. The length of the term can greatly change the monthly payment amount. A shorter term loan almost always has a lower rate, but will cost more monthly. Longer term loans have slightly higher rates, but lower monthly payments.
A down payment or trade in will also effect the loan rate. If a consumer is able to put 20% down on their purchase through cash payment or trade in, or a combination of both, a lower rate is sometimes available even for those with credit issues. Since it also reduces the financed amount and therefore the interest accrued, it also reduced the lifetime amount of money paid on the car.
The Business Office is also known in some dealerships as the Finance and Insurance (F&I) Office. In this office, the buyer is given not only financing opportunities, but also offered extras like extended warranties, paint or fabric protection, rustproofing, undercoating, alarm systems, and window tinting. Be advised that all of these extras will increase the loan amount and therefore the monthly payment.
If a consumer has gotten a loan pre-approval before entering the dealership, the F&I Manager will be more likely to find a low car loan rate. Dealerships do make a profit on the financing, although these profits have been limited in recent years by lending institutions who were concerned about dealerships making unfair profits on individual consumers. The dealership wants consumers to finance at their location in order to earn that commission. They will work hard to ensure that consumers do their business with the banks who will pay the dealership a profit.
For example, lets say a consumer enters the dealership with a pre-approval letter from their bank saying that the bank will finance a car for a rate of 6.49%. The F&I manager makes a few calls with their bank connections and is able to find one bank willing to finance that consumer for 5.49% instead. The bank may actually be offering a rate of 4.49%, with one percentage point going to the dealership. The F&I Manager makes a commission for the service of finding a better deal for the consumer than they were able to find on their own. The consumer was able to find a great rate, the bank got a loan, and the dealership got a commission so everyone got something from the deal.
Perhaps one of the most important factors in working with a business manager for a good car loan rate is to remember that they are working professionals. They are trying to earn a good commission by providing consumers with services that they may or may not find helpful. The best way to deal with car dealerships, as with any sales professionals, is to go in with a positive demeanor. A negative and stand-offish attitude will make these sales professionals less likely to work with a consumer. Being positive, informed and intelligent about the topic is the best way to get an excellent car loan rate.
AS FEATURED ON:
AS FEATURED ON:

By: auremar

Lenders may require a larger down payment for a used car loan.

By: Phrysphotos

Car dealers may or may not have competitive rates, so consumers should check with other financial institutions to compare.

By: Monkey Business

New car loans tend to be larger than used car loans, given the price of new vehicles.