How can I Find a Perfect Honeymoon Destination?
A honeymoon is a wonderful time for a couple. With no time constraints and job pressures, a newly married couple is free to enjoy their time together. The honeymoon planning usually begins with choosing a destination, but where to go?
The first thing a couple needs to determine is whether they want a warm or cold honeymoon spot, and whether they want to stay fairly close to home or venture farther away. A couple that likes to ski may want to choose a skiing destination, especially if they marry in the winter. Beach destinations are popular regardless of the season. If the couple wants to stay closer to home, they may save money. By going to a far away place, they may have an opportunity to visit a place they may not have traveled to otherwise.
Budget will also determine the honeymoon destination. Some couples choose to spend less on the wedding in order to have a fantasy honeymoon. Couples may even choose a resort honeymoon destination, be married at the resort, and then vacation there. This option is popular for weddings in Las Vegas or the Caribbean. There are many honeymoon options for couples who don't have much money, but still want a memorable trip. Mountain chalets, small beach condos and road trips are all worthy of consideration.
If a couple decides on some sort of resort vacation, there is the all-inclusive option. This means that meals, many sports and other activities are included in the stay. All-inclusive trips are more expensive, but they do have some advantages, particularly in Caribbean destinations or other places where travel may be hazardous, such as a ski resort. When in the Caribbean, a couple may not want to rent a car or have to travel to restaurants to eat. An all-inclusive package means that meals are available on the hotel property, and usually drinks and snacks as well. However, some couples who may want to sample some of the local eateries may feel they are "wasting" the meals if they don't take advantage of the on site restaurants.
Finding the perfect honeymoon package may be as simple as a visit to the Internet. Travel sites are always promoting honeymoon vacations and couples may be able to take advantage of these specials. Travel agents may also be helpful and may have information on packages not available online.
The most crucial aspect of choosing the perfect honeymoon destination is advance planning. Many disasters result from a lack of planning or not having a contingency plan. A couple should always purchase trip insurance for a honeymoon if they are flying to their destination in the U.S., and especially if they are planning on traveling out of the country. They should make sure their passports are up to date, and take care of visas or other travel documents well in advance of their departure date. Travel agents usually provide great assistance on these matters, and even if the couple didn't book the vacation through a travel agent, consulting one about overseas travel may be a very good idea.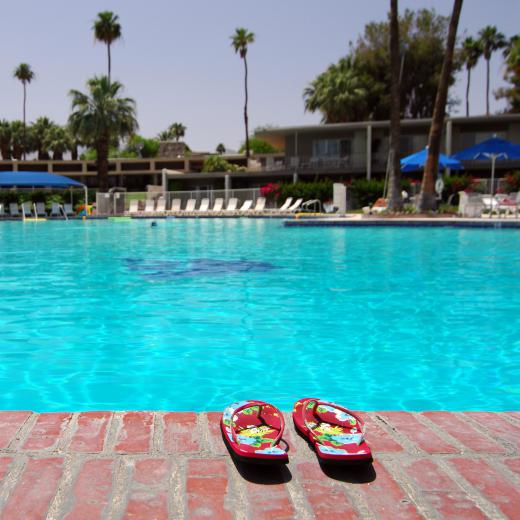 One good way to get the honeymoon started right is to get to the airport the night before, or break up a long road trip. Most airports have hotels and a couple who stays at the airport hotel does not have to worry about missing a flight because they got caught in traffic or overslept. If the couple is driving for more than about four hours after the wedding, or more than a couple of hours after an evening wedding, they should stay at a hotel at a good halfway point to their destination. They will be worn out from their day and may not be able to safely drive for long distances.
By starting the decision-making process early on, a couple can find the honeymoon destination that is perfect for them.
AS FEATURED ON:
AS FEATURED ON:

By: karlsson_photo

Niagara Falls is a classic honeymoon destination.

By: Elnur

Las Vegas is a popular destination for weddings and honeymoons.

By: Warren Goldswain

An all-inclusive honeymoon package might be a good choice for those on a budget.

By: Brent Reeves

Many honeymooning couples like to stay at a relaxing resort.

By: liubomirt

A honeymoon is typically taken right after the wedding to give the married couple a chance to relax.

By: The Photos

People who enjoy snow might honeymoon at a ski resort.